Study Guides
Te Whanake 2: Te Pihinga Pukapuka Tātaki
A lower-intermediate level study guide for adults and teenagers.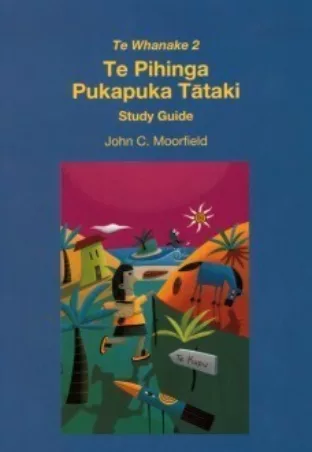 As well as a variety of exercises to help learn vocabulary and for reading and writing practice in the language covered in each chapter of the textbook, this study guide also includes:
further advice on how to learn new vocabulary
further explanations and practice in the a and o categories and some negatives
explanations about the use of reduplication in Māori
explanations about what you need to know to be able to use a word correctly
Reading comprehension exercises include passages about gannets, Haane Manahi, Hirini Melbourne and customs related to the tangihanga.

View sample page

(pdf)
Resource type: Study guide/workbook
Format: paperback
Edition: 1st
Pages: 104
Edition publication date: 2003
Publisher: 0-582-54570-6
ISBN: 0-582-54570-6
Textbook & Resources combined
Te Whanake Tablet App
The Te Whanake app is a rich collection of resources for Māori language learners and teachers. It combines the textbooks and resources into one structured digital programme.

Te Kākano available now
Download for iOS or Android – only $19.99
Stay up to date
Sign up to receive occasional emails when we publish new books, activities, or resources.